Serve this easy Nutella Swirl Bread with ice cream for a decadent dessert, or with coffee for the ultimate quick breakfast. The multipurpose dough in this recipe is easy to make and versatile. It can be used with sweet or savoury fillings and freezes well once baked.

I know, I know. I've been eyeing those chocolate babka and brioche swirl buns on the gram too. But how intimidating are some of those recipes? I'm seeing lists of 15 ingredients and and a method so long I'm scrolling through it until midnight. Yikes.
Y'all don't freak out on me though. I worked on the perfect solution to satisfy our cravings! We no longer have to wipe that embarrassing drool off our screens and look up to make sure no one saw it.

So, how do you make Nutella Swirl Bread?
I've simplified the recipe by making a multipurpose dough to use instead of the brioche.

Simply sift together the dry ingredients and whisk well. You'll see below I use instant yeast in this recipe because it's much easier to handle and work with. Add your wet ingredients and mix to form a dough. Knead for 5-7 minutes and let rise in a warm place until doubled in size. That's it for the dough. So easy.

From there on out, it's a matter of slathering on the entire jar of Nutella (well about three quarters of it; and eating the last quarter), rolling dough into a log, cutting in half lengthwise and twisting the two long halves over each other to form a braided look before coiling into a swirl.
But wait, how do I bake with yeast?
Relaaaax. Don't be intimidated by yeast. I bet you've read elsewhere how yeast is a fungus (yaass girl, I know it sounds gross) and it's put you off completely. The truth is, baking with yeast doesn't require the skillset of a professional baker. And it's not gross at all.
There are several types of yeast – if you're just starting out, look for instant yeast at the supermarket. This type of yeast has a long shelf life and can be added directly to the dry ingredients which means dough making becomes a lot easier.
I personally used this type of yeast for several years when I first started baking. There are a few things to keep in mind when using yeast:
For the yeast to make your dough rise, it needs to be in a warm place. If your room temperature is too cold, try placing your dough (covered) in the sun, or in a preheated oven (heated only to about 45C/113F).
Remember to add warm, not hot, liquids to your dough. There's a good chance you've killed off your yeast if you've added hot liquid, so your dough might not rise.
Instant yeast isn't recommended in recipes where the dough will be chilled overnight.
Thankfully, there's no overnight waiting in this recipe.

Can you freeze Nutella swirl bread?
Since the Nutella swirl bread is made with instant yeast, I don't recommend freezing or refrigerating an unbaked swirl. If however you've baked it, cut into desired portions and freeze tightly wrapped & bagged for up to one month. The bread should defrost by lunch time or for a grab-n-go afternoon coffee snack.
If you like your bread warm like I do, microwave for 10-20 seconds once defrosted.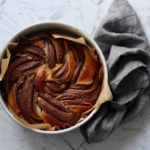 Nutella Swirl Bread
This Nutella swirl bread will satisfy all your sweet tooth cravings. If that isn't sweet enough, it's made with an easy multipurpose dough and has no complicated steps involved. Win win!
Ingredients
Dough
295

grams

(2 cups) plain flour

,

plus extra for dusting

110

grams

(6 tbsp) plain yoghurt

,

at room temperature

¼

cup

flavourless oil

,

(I used sunflower oil)

⅓

cup

milk

1

tbsp

instant yeast

3

tbsp

granulated sugar

½

tsp

salt
Filling
300

g

Nutella

,

or your favourite chocolate hazelnut spread
Instructions
To make the dough
Sift the flour, instant yeast, sugar and salt into a large bowl. Whisk to combine.

Mix milk and oil in a measuring jug and heat in the microwave in 20 second intervals until lukewarm, but not hot.

Make a well in the centre of the dry ingredients, add yoghurt and milk mixture. Combine with your hand until a dough forms. If using a stand mixer with the dough hook attachment, be sure to stop and scrape down the bowl.

Cover and let rise in a warm spot for an hour, or until doubled in size (usually no more than 90 minutes should do it).
To bake the bread
Preheat the oven to 190°C (375°F) or 170°C (340°F) fan forced. Roll the dough to a 1cm (about 1/2 inch) thickness. Spread Nutella or your favourite hazelnut chocolate spread over the dough in an even layer.

Roll the dough to form a log, and slice in half lengthwise (vertically). Place one half over the other repeatedly to form a braided look, then coil the braid into a swirl. 

Place the swirl in a 23cm (9 inch) cake pan lined with parchment paper. 

Bake in preheated oven for 25 minutes, or until golden brown and dough is cooked through. Cool for 10 minutes before removing from pan and cooling on a wire rack. 

Serve warm with your favourite cuppa.
Notes
Allergies? Why not substitute the hazelnut spread with your favourite filling. The options are endless - from caramel to almond butter to crushed nuts or chocolate chips. 
Tried it? Let me know if you liked it!
Go on and rate the recipe in the comments below. And Don't forget to tag your creations on Instagram with @tilgoldenbrown #tilgoldenbrown so I can feature them!