This creamy chicken potato bake is the perfect comforting family dish – it feeds crowds and fussy eaters alike. Best of all, it's a one tray wonder – because ain't nobody got time for dishes!

If there are two things winter demands, it's oversized knits and comfort food. A couple months back when we were in the midst of our cool Australian winter, I made this creamy chicken potato bake which was so warming and a total crowd pleaser. With Autumn around the corner for our friends up north, I figured it's due time I shared this incredible recipe!

Chicken & Potato Bake Ingredients
With just six main ingredients, plus a few herbs, this bake is truly easy to put together. You'll see I've listed one chicken thigh per person in the recipe below. As we try to reduce our meat consumption, this felt like right amount for us to share. You can easily add another 2 chicken thighs to the recipe, adjusting the seasoning slightly to cater for the extra meat.

Along with the thighs is our next main ingredient, potatoes! 🥔 For this recipe, you'll need three medium-large potatoes.
In Australia, the standard brushed potatoes – which are a great all-rounder for baking, frying and boiling – are from the Sebago variety. They're often oblong, covered in a little bit of dirt and sometimes sold/known as 'Dutch Cream Potatoes'.
Another brushed potato variety sold in supermarkets here are the Nadine type. These have a similar appearance to the Sebago variety, except they are more round in shape. Nadine potatoes are sometimes pre-washed and packaged as ready-to-cook. This type is also a solid all-rounder spud, without much starch and a superb baking ability.
Finally, the sauce is made from thickened cream or cooking cream, a splash of milk, mozzarella and parmesan cheese. My choice of seasoning is salt, pepper, rosemary, and a glug of olive oil. Needless to say, the mozzarella cheese can be swapped for what you have on hand. Other great alternatives include cheddar and gouda cheese.

How It's Made
First up, preheat your grill (broiler) to 200°C / 400°F. Mine is built into my fan forced oven. If you have a gas oven with a built in broiler, you can increase the temperature to High or 220°C / 425°F.
To get perfectly scalloped potatoes, I recommend using a mandolin. Wash, peel and slice potatoes into thin rounds (a sharp chef's knife does the trick, too!). Season with sea salt, pepper, rosemary and toss through olive oil in the same baking dish you wish to serve the bake in.
Neaten the potatoes in the baking dish and place under broiler/grill for about 7 minutes, until slightly golden, but not cooked through.

Meanwhile you'll be preparing the chicken. Simply cut chicken thighs into bite sized pieces and season with a generous pinch of salt and pepper. Set aside.
To make the creamy sauce, combine shredded mozzarella, shredded parmesan, milk, and cream in a small bowl. Season with a bit of salt and set aside.
This recipe works well when using pure cream (also known as cooking cream, single cream or pouring cream). It also works perfectly with thickened cream, and this is my go-to choice. Thickened cream in Australia has about a 35% fat content. Overseas, it's often referred to as whipping cream.
Remove potatoes from grill, dot chicken onto the potatoes, and pour over the creamy sauce. If you like a little extra indulgence, top the traybake with another small handful of mozzarella cheese. Lastly, bake at 200°C/400°F fan forced (reduce by 20° if not using fan forced) until the potatoes are tender and the chicken has cooked through.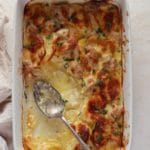 Creamy Chicken and Potato Bake
Chicken thigh pieces are cooked in a creamy sauce with scalloped potatoes, for a fuss-free, one tray, comforting dinner everyone will love.
Ingredients
3

medium-large

potatoes

4

chicken thighs

,

boneless & skinless

½

cup

shredded mozzarella cheese

½

cup

shredded parmesan cheese

½

cup

cream (approx 35% fat)

,

(can sub with cooking cream)

¼

cup

milk of choice

3

tsp

sea salt

,

divided

1

tsp

black pepper

,

divided

1

tsp

rosemary leaves

,

(dried or fresh)

4

tbsp

olive oil
Instructions
Preheat broiler/grill to 200°C / 400°F.

Wash and peel potatoes. Use a mandolin, or a sharp knife to thinly slice potatoes into rounds. Arrange into a lightly oiled baking dish.

Toss in olive oil, 1 tsp sea salt, ½ tsp black pepper, and rosemary.

Broil/grill potatoes for approximately 7 minutes, until edges begin to turn golden and slightly crispy.

Meanwhile, add milk, cream, parmesan and mozzarella into a bowl. Reserve half the mozzarella if you'd like to sprinkle a bit of cheese on top. Alternatively, use an extra ¼ cup of mozzarella for this.

Add 1 tsp salt to the creamy sauce and mix well. Set aside.

Cut the chicken thighs into small bite sized pieces. Season with the last 1 tsp salt and ½ tsp pepper. Set aside.

Remove potatoes from the grill. Top with chicken and pour over the creamy sauce. Top with reserved mozzarella, if using.

Place baking dish in a preheated oven and bake at 200°C/400°F or 180°C/350°F fan forced until potatoes are tender and chicken has cooked through, approximately 30 minutes. If the cheese is browning too quickly, cover with aluminium foil and remove for the last five minutes of baking.
Tried it? Let me know if you liked it!
Go on and rate the recipe in the comments below. And don't forget to tag your creations on Instagram with @tilgoldenbrown #tilgoldenbrown so I can feature them!