Have your mind (and taste buds) blown away by this freakishly amazing Asian glazed salmon and crispy wedges. No frying, no boring dill + lemon combos, just pure sticky-sweet-caramelisation and crispy edge sensations which will have you drooling for more.

There's no denying the Brits (and their Aussie counterparts) just absolutely love their fish and chips! But it's not the healthiest meal – with all the frying that goes on – so it's a rare treat for us, saved usually for beach trips or picnics.
I've seen so many twists on fish and chips – grilled fish with roasted chips being the most popular. But I've never liked grilled fish as I often found it blandly seasoned with a bit of lemon/garlic/parsley and too fishy tasting. Anyone else agree?
Rewind 4 years, I find myself standing in the kitchen wondering what to make with some basa (swai) fillets for my significant other. We'd only been together for a couple of months so I wanted to impress of course. So… I did what I knew best – I concocted a mix of all the sauces I could find in the pantry! Needless to say, those fillets vanished (I have never seen someone eat food so quickly) and the recipe became a regular.
Today's version I use the glaze on salmon fillets and bake them in the oven. However when I first made this dish, I pan grilled semi-frozen fillets while continually brushing with the sauce and flipping until defrosted & cooked through.

So how do you make the asian glaze?
Well first, you're better off measuring your ingredients rather than eyeballing them – which I still do to this day! 😂 Simply crush 3 cloves of garlic (sub 3 tsp garlic powder if you're out), and add to it equal parts of peanut oil, kecap manis (sweet soy sauce), and sweet chilli sauce.

I often sub the oil with sesame oil (use less if you do), sunflower oil, or any other oil I have on hand. Lastly, I add about 4 dashes of fish sauce and give everything a good mix.
Why is this glaze amazing?
I know what you're thinking. You threw these ingredients in one day and expect us to trust it's a great recipe? I promise my concoction wasn't mindless mixing. Here is why it works: the sweetness from the kecap manis is balanced with the saltiness from the fish sauce. The sweet chilli and garlic add a punch of flavour to round it all off.
The oil in the sauce is essential for several reasons. Flavours often like to stick to fat molecules, meaning the fat prolongs the release of those flavours in our mouths (which means you enjoy the taste for longer). Adding fat affects the texture of the final product. In this case, the sugars from the kecap manis and sweet chilli, along with the fat from the oil will caramelise and crisp up all over the fish.

And the best part about the Asian glaze recipe? Absolutely no added salt, pepper, or dill – because fish (especially one as attractive as this salmon) deserves to get a little saucy!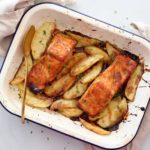 Asian Glazed Salmon & Crispy Wedges
These ridiculously amazing Asian glazed salmon and crispy wedges are ready in an hour. The best part is there's no frying involved, and no boring dill & lemon combos. Just pure sticky-sweet-caramelisation and crispy edge sensations which will have you drooling for more.
Ingredients
2

salmon fillets

2

medium

potatoes, each cut into 8 wedges

2

tbsp

sunflower oil
For the glaze
1/4

cup

kecap manis (sweet soy sauce)

1/4

cup

sweet chilli sauce

1/8

cup

sesame oil

,

(see note below)

3

cloves

fresh garlic, minced

1/2

tsp

fish sauce (about 4 dashes from the bottle)
Instructions
Bring a pot of salted water to a boil. Add wedges and cook for about 5 minutes, until firm on the inside but tender at the edges.

Drain and place wedges in baking tray to cool slightly.

Meanwhile preheat the oven to 200 C / 180 C fan / 400 F.

When wedges are cool enough to handle, drizzle with oil and lightly salt.

Bake uncovered for 20-25 minutes, or until outer edges begin to form a light crisp.

Meanwhile, make the asian glaze by combining equal parts of kecap manis and sweet chilli sauce. Add oil, minced garlic and fish sauce. Mix well.

Remove wedges from the oven and place salmon fillets directly on wedges. Pour 2/3 of Asian glaze over both fillets and return to oven to cook for 10 minutes.

Finally, pour the remaining sauce over the fillets and return to the oven for 5 minutes until sauce caramelises and fish is cooked through.
Notes
1- Sesame oil is potent. If you choose to use sunflower/vegetable oil, increase the amount to 1/4 cup so you're using equal parts of sauce and oil. I don't recommend olive oil for this glaze.
2- Alternatively, pour all sauce over the fish and cook for 15 minutes until sauce salmon is cooked through. The reason I don't use this method is because basting the fish twice layers the sauce over the fillets, resulting in a  sweet, sticky, and caramelised finish.
Tried it? Let me know if you liked it!
Go on and rate the recipe in the comments below. And don't forget to tag your creations on Instagram with @tilgoldenbrown #tilgoldenbrown so I can feature them!